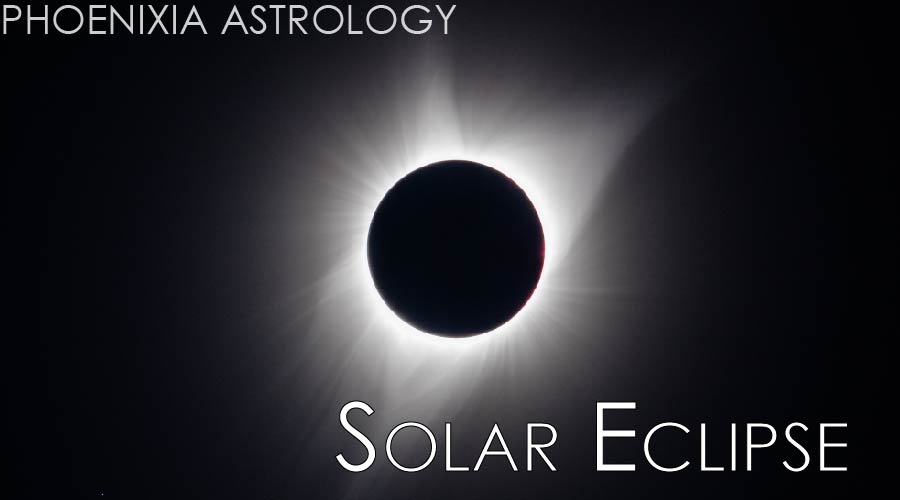 The Great North American Solar Eclipse is upon us, and the alignments in the stars are in quite a show of force. Fortunately, there is some ease of energies for this one, but also some distinct challenges ahead as well. Let's dive deep into the rabbit hole…
Let's start off with the explanation of a solar eclipse in Astrology… it's a supercharged New Moon which begins a new cycle that, instead of the usual month-long cycle, it lasts for several months, perhaps longer. In fact, I think I was feeling the effects of this eclipse even before it was happening. That's how powerful a solar eclipse is astrologically. It's like a transitional gateway of sorts, very high powered, very high energy, and not something to be dismissed out of hand. Even if you don't buy into astrology, take a look at your life events around the time of previous eclipses, and see if there were any events that stand out to you.
As this Solar Eclipse is in the last part of 28, almost 29 Leo, anyone with significant points (like Ascendant/Descendant, or Midheaven/IC) or any planets in the Fixed signs from 23.5 degrees to the very end of Leo/Scorpio/Aquarius/Taurus, or the very beginning of the Mutable signs to 4 degrees Virgo/Sagittarius/Pisces/Gemini will feel it very strorngly. A degree or two outside this range may experience some muted effects, but still enough for a kick. Trines and sextiles to an Eclipse aren't as dynamic as the harder aspects, and I think aspects like the Quincunx have some impact as well, but again, not as strongly as the cross formations (Conjunction/Opposition/Squares).
Without further ado, however, let's get into the analysis of this particular eclipse chart.
To begin… the Solar Eclipse itself trines Uranus retrograde. For the next several months, we will see an influence of internal rebellion, revolution, and shakeups. This isn't necessarily a bad thing. Sometimes we need to see what isn't working, and we need to rebel against it and cast it aside. The Trine aspect for this alignment makes this an easier time. Almost too easy, as it can lead to not making the internal changes we need to do. But on a distant note, the Solar Eclipse also trines Saturn Retrograde, which is stationing and getting ready to make its forward motion around August 25th. It's a 7 degree orb, however, so it's barely felt. Almost not even worth noting the trine line between Saturn and Uranus. However, the Solar Eclipse does barely trine Pholus as well, and that's close enough to consider with a trine to Uranus as well (less than 3 degree orb, so not strong, but a subtle influence). Some of our internal changes may come when we're under the influence of something, be it a drink at happy hour, a runner's high after running a few miles, maybe some kind of epiphany.
Update 08/21/2017 @ 13:21 PDT: We must also consider that this Solar Eclipse is in proximity to the fixed star Regulus, which greatly affects this eclipse as well. From Constellations of Words, regarding the Sun:
"With Sun: Power, authority, great influence over friends, honor and riches, but violence, trouble and ultimate disgrace and ruin, sickness, fevers, benefits seldom last. [Robson*, p.196.]"
…and the Moon?
"With Moon: Occult interests, powerful friends, danger from enemies and false friends, gain by speculation, public prominence, great power, honor, wealth, benefits seldom last, violence, trouble and sickness. Make women high spirited and independent. If at the same time the Sun is with the Dragon's Head in Gemini, or Jupiter is in the 10th house in trine to Mars and the Sun is with the Dragon's Head, great preferment even from the lowest sphere to high rank. [Robson*, p.196.]"
So we will be seeing some strong leadership and leader-oriented events over the next several months, and I can tell you that the saber-rattling we've been seeing is only just getting started. It's likely a prominent leader or three will also be ousted or step down over the next several months. Whether that happens to Trump specifically… I can only speculate. At the time I update this, we still await word on his announcement regarding Afghanistan.
Another thing to consider is the Solar Eclipse conjunct the North Node, which is no real surprise when we consider the Nodes and their placements during eclipses. This Eclipse North Node squares 407 Arachne in Scorpio, which to me indicates that, for the next several months (until the next eclipse cycle), we will need to be abundantly aware of what ensnares us, what binds us. We will need to use our inner strength to cut the binds that tie, and especially so at this time.
Jupiter sextile Saturn Retrograde during this time gives us a small boost in increasing our own luck through inner discipline. As both Jupiter and Saturn both Quincunx 666 Desdemona, creating a Yod pattern, the focus will be on slaying the inner demons… particularly inner demons that aim to keep us lazy and in a state of false satisfaction, as Desdemona sits in Taurus right now. 3412 Kafka opposite Desdemona pulls the bowstring, kiting this Yod, so we will need to be on the lookout for awkward or off-the-wall occurrences that drive us to killing the demon without. We have the strength, we just need to watch out for anything that trips us up.
Chiron retrograde quincunx the Solar Eclipse brings an awkward or off-kilter sense of inner wounding (or inner healing, as Chiron is the wounded healer), so while we may be striving to heal what has hurt us in the past, the lingering aches and burns are still going to fester and boil a bit. Maybe sting. Chrion retrograde semisextile Uranus retrograde seems to indicate to me that much of this inner burn and heal is going to be of our own making, as retrograde I'm feeling that it's internalized to many of us. Many inner hurts, inner pains, those are going to be what comes to the surface over the next several months, and that is what we must focus on healing.
Mercury is also retrograde during this Eclipse, so we are currently going through some of the technological and travel delays usually associated with that transit. Mercury retrograde conjuncts 99942 Apophis and 896 Sphinx, and opposes Nessus by about 2 degrees.… During the next several months, we must be very clear and aware that we aren't being decieved by destructive riddles, or led astray by those who would wish to obsess and abuse us. In fact, with Mercury being retrograde at this time, we may even be deceiving and lying to ourselves, paving the way for our downfall if we are not careful. But by seeing this in the chart at this juncture in time, we can avoid the worst of it. Just be mindful.
Pluto retrograde square 763 Cupido could bring some trouble when looking for love, as Cupido is more a lustful asteroid from where I'm looking. Pluto also opposes Venus at a wide orb, so any love relationships should be carefully considered during the next several months, especially if they were initiated during this time, as after the initial lustful stage, only those meant to be will endure beyond that honeymoon period. Now, if you're looking for somehing like tantric sex, then this can be a time of great transformation. Just remember that the phoenix must immolate itself to be reborn /grin.
Speaking of sexual transformations, Cupido does sextile 545 Messalina, both quincunx Vesta for a Yod pattern, and kited by 37117 Narcissus. Whatever sexual or romantic transformations occur during this time, one must be very aware of the other partner's intentions, as deep down in the core it may not be altruistic, and at the same time, there will be an air of destiny or something that seems sacred or blessed to begin with. But a lot of encounters initiated around the time of this eclipse will be primarily lustful, I feel. Had the involved asteroids been something like Aphrodite or Eros, then perhaps something more enduring, but not in this instance.
Mars trine Saturn retrograde brings a general ease and easier flow when it comes to achieveing some of our more self-improving goals during this several months period. It's a great time to initiate some growth, especially as we have Jupiter sextiling both Saturn and Mars, creating a Minor Grand Trine, so we should have a greater deal of good fortune in self-improvement projects for the next several months. Note that Jupiter does square Venus at this time as well, so there could be some losses stemming from a romantic encounter we may have desired, or perhaps a piece of artwork or that awesome poster doesn't quite match the rest of the decor in your room, as remote possibilities.
Venus currently is also conjunct 875 Nymphe and 149 Medusa. Romantic encounters initiated during this period could be a bit dicey as this seems to point to me some impetus on lustful action, with a risk of betrayal by women or female-minded individuals (or even those men more attuned to their feminine side, for another example.) Perhaps "possible betrayal by the feminine" makes more sense? I'm not sure how else to describe this with the English language adequately. This gets quite interesting though, as currently Venus, Nymphe and Medusa all sextile Sedna on Algol, and with Pholus quincunx both sides of this Yod, and 8813 Leviathan opposing Pholus, I would have to urge caution in any drunken encounters during this time period. While Medusa could be described as betrayal by the feminine, Sedna is betrayal by the Masculine, and Sedna moves slow! And it's parked its fat, transneptunian ass on Algol, a very harsh fixed star, so there's a great risk of men or more masculine figures in our lives possibly losing their heads at this time. Remember also that Arachne weakly opposes Sedna at this time too, so there's again a risk of ties that bind. If you're not wanting any more children at this time, I'd strongly urge using protection, as the alignments seem to indicate that there's an elevated chance of this happening globally during this time period.
I will leave off here, as the Eclipse is coming in my locality in the morning and I'd rather not miss it. Hopefully I'll be able to borrow some eclipse goggles to see this thing as I didn't get a chance to acquire any with all the goings on that have been happening with me. Be calm, be alert, and overall I think there's a great chance to grow during this particular Eclipse period. Be careful not to go overboard with that hot hunk or that cute playmate too! After all, the last chances for summer romance do seem to be coming now with Labor Day coming up and the Autumnal Equinox (in the Northern Hemisphere) a month away! Adios.