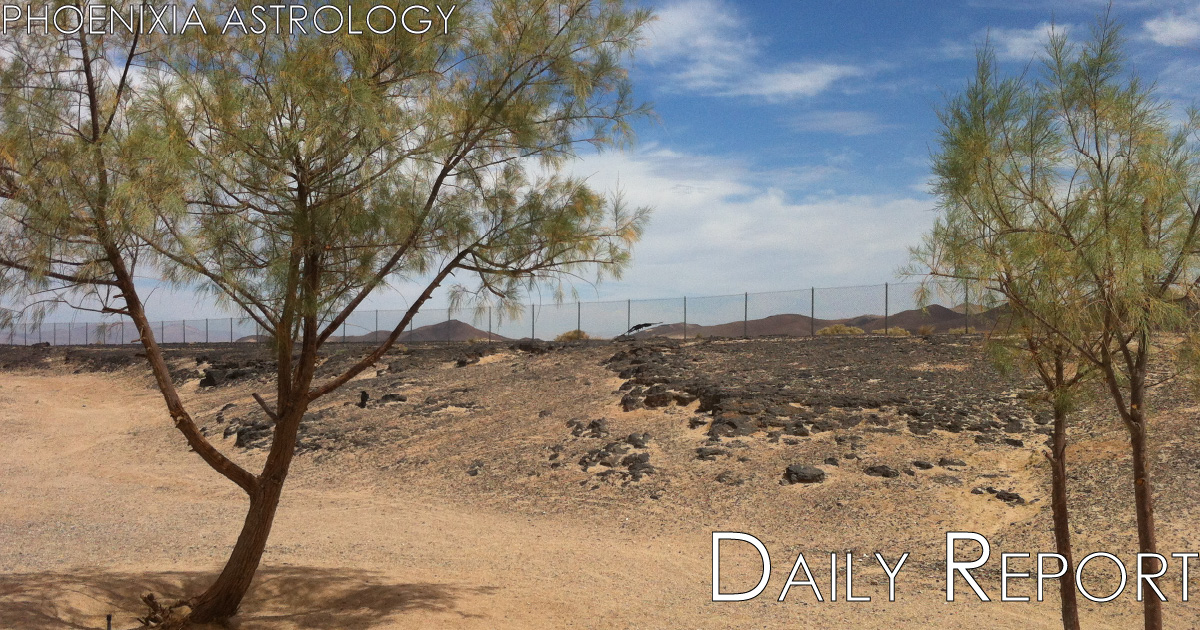 This will be a quickie. I'm way short on time tonight. Wednesday's Mercury conjunct Pluto certainly manifested as a commute from hell with a major accident in the toll lanes on the Seattle eastside 405. Consider that a potential example of travel being affected, in conjunction with that… conjunction. Anyways, enough about my commute.
Thursday is actually going to be a quickie as I'm not seeing too many of the tightest aspects for today. Granted, yesterday's Mercury square Pluto is still active, so be wary of travel delays for today and tomorrow. We may have some mitigation though, as we also have Jupiter sextile Mercury (~3:00 PST), which will then be followed in the early morning hours as well with Moon sextile Neptune (~4:00 PST). Jupiter and Mercury will bring a bit of ease of messages and signs from above, I would think, as well as insulate against some of the other misfortunes that can sometimes accompany Mercury and Pluto's conjunction. Moon sextile Neptune should bring some interesting dream visions that we might be recalling about the time we read this article. Just watch out for Moon square Ceres retrograde around 5:00 PST. Could be something as benign as stealing the covers from your spouse, or maybe some loud snoring? Just a couple examples.
As we get into the morning commute, Moon in Taurus squares the Nodes around 8:00 PST. We could be in for some rough feelings this morning. Maybe some confusion as to whether we left the stove on or something of that magnitude. Try to keep your bearings.
Sun semisextile Nessus (~10:00 PST) may trigger a clash of egos, where our will is at odds or conflicts or even simply intersects with the driving will of someone else. Soon after at 11:00 PST, we see the Moon conjunct Destinn and Moon square Juno. There could be some rough messages with some loved ones that lead to a make or break decision. Whatever happens may happen, but there are some mitigating factors. Again, though Destinn implies "destiny", we do have free will as humans. We can make alternate choices that improve our situation. They're not always that obvious though…
Moon trine Pluto (16:00 PST) may lead us to that alternate outcome, as we can feel our way through the changing situation, and perhaps take charge of it somewhat. But do choose your words and watch your feelings carefully, as Moon square Kaali near 17:00 PST (I'm using 24 hour time, so 5:00 PM) will amplify these harsh feelings considerably. 18:00 PST brings us Moon opposite Jupiter, where we feel at odds with our greater destiny, and we may start wondering if what we're going through today is really worth the trouble. Don't lose faith. A message or a walk or drive somewhere nice might be in order when Moon trines Mercury at 19:00 PST. Maybe a slightly easier commute, or maybe we just handle the road rage just a little bit more gently than normal. I'd recommend a short jog at a gym or just stop off somewhere to chill out, and consider some sort of blessings that you might have. It's not all gloom and shadows after all, even in the Pacific Northwest (where we're getting rain).
Finally, we end the day with Destinn square Juno around 21:00 PST. Take it easy on the homefront, and be diplomatic with your loved ones, as they've had a rough day of it too. I can almost guarantee it.
This is going to be a rough day, I'm not going to lie. But there's some mitigation as we could see. I hope the general hours (at least in PST, which is UTC minus 8 hours) will act as a greater guideline for forecasting what influences may show up today. Take it easy, and watch out for roadblocks, as we're probably jsut not going to feel like we're making much progress today. Rome wasn't built in a day. It wasn't torn down in a day either. Get building.