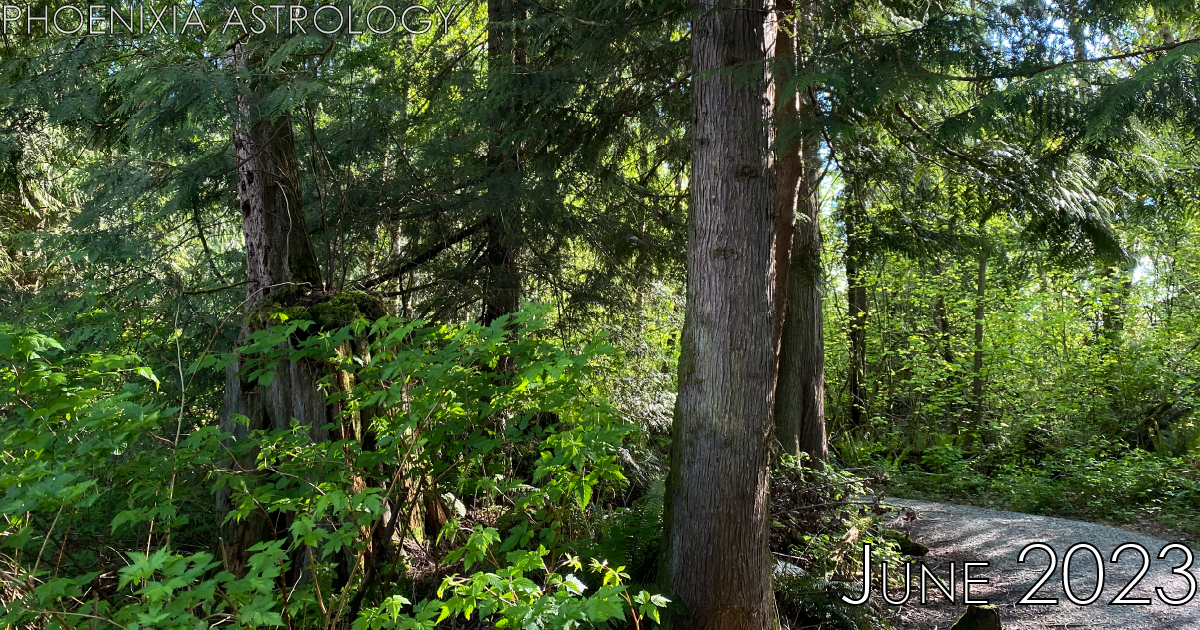 I'm somewhat late getting this up, and a portion of the month will have already passed by the time most people see this. C'est la vie. So far, it's been intense, and it'll only prove to be more intense as the month progresses.
Sign Changes and Retrograde Cycles for June 2023
All date/times are approximate in Pacific Daylight Time (PDT), and are given in 24 hour format with UTC offsets.
2023-06-02 23:00:00-07:00: Moon enters Sagittarius
2023-06-03 20:41:42-07:00: Full Moon Sagittarius
2023-06-05 01:00:00-07:00: Moon enters Capricorn
2023-06-05 07:00:00-07:00: Venus enters Leo
2023-06-07 02:00:00-07:00: Moon enters Aquarius
2023-06-09 04:00:00-07:00: Moon enters Pisces
2023-06-11 03:00:00-07:00: Pluto retrograde reenters Capricorn
2023-06-11 04:00:00-07:00: Mercury enters Gemini
2023-06-11 07:00:00-07:00: Moon enters Aries
2023-06-13 12:00:00-07:00: Moon enters Taurus
2023-06-15 19:00:00-07:00: Moon enters Gemini
2023-06-17 11:00:00-07:00: Saturn retrograde begins
2023-06-17 21:37:05-07:00: New Moon Gemini
2023-06-17 23:00:00-07:00: 7066 Nessus retrograde begins
2023-06-18 04:00:00-07:00: Moon enters Cancer
2023-06-19 00:18:02-07:00: Venus pre-retrograde shadow begins
2023-06-20 16:00:00-07:00: Moon enters Leo
2023-06-21 05:00:00-07:00: Ceres enters Libra
2023-06-21 08:00:00-07:00: Sun enters Cancer
2023-06-22 05:00:00-07:00: Juno enters Cancer
2023-06-22 13:00:00-07:00: Vesta enters Gemini
2023-06-23 04:00:00-07:00: Moon enters Virgo
2023-06-25 16:00:00-07:00: Moon enters Libra
2023-06-26 18:00:00-07:00: Mercury enters Cancer
2023-06-28 02:00:00-07:00: Moon enters Scorpio
2023-06-30 08:00:00-07:00: Moon enters Sagittarius
2023-06-30 15:00:00-07:00: Neptune retrograde begins
The Month So Far to June 11th
So far, we've seen some rather intense transits. June began with a Grand Cross between North Node and Jupiter conjunct in Taurus, Pluto retrograde in the beginning of Aquarius, Venus in Cancer, and the Moon conjunct South Node in Scorpio. This foretold of problems in the financial markets, and in hindsight the cryptocurrency sector in particular (given the SEC actions against Binance US and Coinbase soon after this Grand Cross).
Soon after this, Venus entered Leo, where it will stay until at least October, as there will be a retrograde cycle coming up. Leo, the fifth sign, represents recreation, children, short-term relationships and flings, and what we see as fun. Venus here usually ups the action on this front here (hence "summer love"). It's going to be tricky with the retrograde coming up and the other aspects before then.
Trials and Tribulations
Mercury conjunct Uranus on June 5th coincided with the Binance US-SEC lawsuit announcement, with the Coinbase one a day later on June 6th. Again, a T-Square from Venus (by now in Leo), Pluto, apexing Jupiter/North Node (or a Grand Cross if you still count the South Node) was also in effect. Since then, Robinhood and Crypto.com have also announced measures to mitigate their risk with particular tokens (those named in the SEC lawsuits) and this resulted in a cryptocurrency bloodletting overnight into June 10th. Technological speculative investments are undergoing a major trial now.
While on the subject of bloodletting, the Nova Khakova dam in Ukraine was destroyed during this T-Square/Grand Cross as well, which may impact the Zaphorizhzhia Nuclear Power Plant very negatively. A meltdown or other nuclear disaster is possible if this war continues.
Also speaking of trials, when Mercury crossed fixed star Algol on June 8th, came the news that Donald Trump was indicted. His Midheaven is on Algol, so a public display of bad news for him wasn't off-brand for this transit. The rhetoric by his most die-hard supporters online have been… unsettling since this announcement. The further aspects this month may show us why.
What Can We Expect For the Rest of June 2023?
Plutonian Impacts
As I write this paragraph on June 11th, Pluto retrograde has now reentered Capricorn. It will be back in this Saturnian sign for the rest of the year and into January 2024 (with one more return trip later on in 2024 before it leaves for good). Mercury enters Gemini, one of its signs, on the same day and trines Pluto retrograde. So for the moment, we can communicate what's essential for our reputations a bit more clearly.
Pluto, it should be noted, is in the third decan of Capricorn for this transit, which is a Virgo-oriented decan (from 20 Cap 00'00" to 29 Cap 59'59"). So Mercury has a slight influence here as well. Expect matters of dissolution and reorganization to be highly analytical for the next several months, and that will include regulatory scrutiny of a great many technological areas (including financial markets, cryptocurrency, AI, and probably tech company antitrust scrutiny as well).
More Shakeups
Jupiter and Venus intensify their square on June 11th as well, with this being the peak period of their conflict. I talk a lot about cryptocurrency lately, and one reason is that unlike the stock markets, crypto exchanges don't close for the weekends. So whatever is not bound by normal business day and hour rules will be rather volatile even before the opening bell on Wall Street.
Sun in Gemini semisextile Uranus in Taurus is another trigger aspect that suggest change and uncertainty in messages and agreements regarding money, possessions, and what we expect. This may not be the time for bargain hunting, as there's a good bit of buyer's and seller's remorse likely. Also expect potential forced liquidations and unwelcome belt-tightening.
Venus in Leo quincunx Saturn in Pisces around June 12th also isn't all that fun. This awkward aspect symbolizes us wanting to have some fun and extend the weekend, but Saturn here is urging some restraint, whether due to fuzzy reasoning or uncertainties. Saturn is also slowing down at this point, as Saturn retrograde begins June 17th. Self-discipline, and self-undoing whether from mental illness, anxiety attacks, or substance abuse could become a problem here if one isn't careful. And of course, that retrograde starts on a weekend. There won't be as much opportunity to party hard right before the official start of summer. New Moon Gemini forms up on the same day Saturn shifts gears, so this inner brake-hitting will be an influence for the lunar cycle that goes to mid-July.
Discipline Equals Freedom
Jupiter sextile Saturn, fortunately, is in effect for the entire month of June, and peaks in influence around June 19th. This helps thing along somewhat in expanding our self-discipline for getting our more mental tasks accomplished. Creativity and art may also benefit from this. A good weekend to work on that novel or poem you've been putting off.
We may have some issues explaining the need for our self-control when Mercury in Gemini squares Saturn and the Sun in Gemini starts squaring Neptune around June 15th. Mercury and Saturn squaring off will also affect contract negotiation, so ensure that you're standing up for your own self-interests and not short-selling yourself.
Sun and Neptune is another tricky square. Both are in their third decans of their signs, so Gemini Sun has a slight Aquarian influence, and Neptune's enmeshed with a Scorpionic energy. Neptune's also dangerously close to fixed star Scheat so don't rely too much on substances and stimulants to win through the day. Propaganda is a given during these transits, and even cyberattacks are possible. Keep on guard.
Mercury sextile Venus on June 17th is also beneficial and may help smooth over some hindrances going on during the volatile weekend. Again, don't sell yourself short in negotiations: you might be able to get a better rate, quote, or wage than expected if you stick to your guns around this time. Know your worth.
Also consider that Venus pre-retrograde shadow period begins June 19th. This is where financial, relationship, and even business changes will start to shape up. Some good gains are still possible, but don't expect them to go exactly as you expect until after October with this influence. Allow for adjustments if able.
Chaos From (Seemingly) Out of Nowhere
The final third of June gets potentially dangerous. Black Moon Lilith and Mars square off against Uranus from June 19th. Lilith represents the unbridled feminine, but also represents what's hidden beneath the surface, occult matters, and with Mars joining in, there is likely to be outbursts and confrontations from seemingly out of nowhere. The last time Black Moon Lilith squared Uranus was in late 2020, in the buildup to the January 6th, 2021 Insurrection. Remember this. And remember what I said about rhetoric heating up after Donald Trump's indictment was announced.
The energy here is rebellious and unpredictable. Stay away from political protests is my recommendation. June 20th is the peak conjunction between Black Moon Lilith and Mars. The Moon enters Leo, opposes Pluto, and squares the Nodes on the same day. This is highly volatile energy. Do not get into needless arguments, and defuse whatever confrontations do occur this entire week.
June 21st overnight into June 22nd, the Moon joins Venus, and crosses over Black Moon Lilith/Mars and squares Uranus itself. This is the peak period of explosive standoffs, in my view. Fortunately, Mercury in Gemini sextiles Chiron in Aries and Mars/Lilith/Moon strongly, with Chiron trine the Mars/Lilith complex. So there is a chance of a major conflict being mitigated with proper communication, or at the very least, advance warning.
This all takes place right as the Sun enters Cancer on June 21st, beginning Summer proper here in the Northern Hemisphere. Home and private life matters are also in the forefront from this point on for the rest of the month. As a Moon-ruled sign, Cancer will also bring emotions to the surface more readily now.
It's absolutely essential that proper communications and de-escalation be exercised.
Mixed Bag
June 24th looks like it could go either way. Mars, Black Moon Lilith, and Venus are largely in a spread-out conjunction on this day, and the Uranus square to all of this is right there. So is the Chiron trine to this same conjunction. Unexpected conflicts are to be expected, but also an opportunity to put these conflicts right.
June 25th shows us a tight square from Mercury in Gemini to Neptune in Pisces. Be clear about what you want and need now. Attempting to mind-read will get you in trouble, especially with the Uranian aspects going on now.
Venus tightens its conjunction to Black Moon Lilith on June 27th. Expect more financial and relationship shifts from out of the blue. A sexual misconduct scandal could crop up around this time as one example of unexpected events. Remember the square to Uranus by these two bodies is still in full force.
A Water Grand Trine Kite briefly occurs on June 28th when Sun and Mercury in Cancer trine Saturn, both trining Scorpio Moon by midday. Jupiter opposite the Moon puts a good focus on resolving debts, sexual matters, and shared resources. Still maybe not the best time to propose or tie the knot though, but some progress can be made in other concerns. Charities may benefit now from generous benefactors.
June 29th brings brief volatility with a T-Square from transiting Moon in Scorpio opposing Uranus in Taurus, apexing Mars/Venus/Black Moon Lilith in Leo. Watch for sudden outbursts and aggressions, again, from out of seemingly nowhere. Exercise caution and be wary of hidden dangers.
Finally, Neptune retrograde begins on June 30th to cap off the month. Matters regarding our intuition, psychic matters, mental stability, and addictions will take a more inward turn for the next several months. Make sure your feelings are clear on all matters. Introspection and silent contemplation can be helpful, as well as meditation around this time period. Keep your third eye open for creative inspiration as well.
In Closing
June's proving to be a firecracker of a month, and perhaps something much more explosive. We've already seen a great deal of shifts happening as this month has progressed so far, and it's going to get even more intense.
There's opportunities to still be had for making progress towards goals, but will require a clear head and perhaps unconventional means to get things done. We can still pull off some awesome goals, but we'll need to watch that we don't sabotage ourselves. And we'll certainly have to be on the lookout for hidden dangers and the loudly displeased.
Avoid trouble, follow your gut and intuition, and stand up for your own self-worth. It may be uncomfortable, but that's what we'll have to deal with. Stay safe, and always be working towards your growth.